These two pics. are of the three aluminium tubes we commonly use.

Left is a 16mm tube. Mostly used in oe replacement applications ie:- Japanese 4 cyl.. We use it if we have a very big surface area to play with, weight is paramount &/or the engine is running methanol (it runs much cooler). We have our cores made with two rows of these tubes for some applications, usually cost concious, giving a core thickness of 37mm.

Middle is a 29mm tube. Mostly used in oe applications ie:- Commodore 6 cyl. We use it for cores where we have a reasonable surface area. Our most common core is two rows of these tubes, giving 57mm thick. This is as thick as practical before problems with getting the air flow through the core & the air becoming too hot in the core (to do any more cooling) actually retard cooling.

Right is a 29mm Dimple wall tube. Developed late '99 for the Group A race cars , this is the most efficient cooling available. At 29mm it allows low restriction air flow & as a two row 57mm thick core, still allows good air flow. The tube gives 8 % better heat dissipation from the water. This is because the dimples stamped into the tube side wall, break up the capillary wall tension which in a plain tube causes the boundary layer of water to cling to the tube inner wall & slowly move down the tube. This layer gets nice & cool, but unfortunately, the majority of water passes down the center of the tube without the advantage of contact with the tube wall.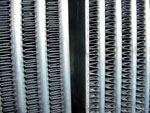 N.B. This pic is of intercooler cores, tubes are thicker, but fin variance shows up the same.
This pic. show the difference in the range of fins per inch (fpi.) cores we can have manufactured for us. The core on the left is 18fpi. and the core on the right is 11fpi. , note that the manufacturer was a little more generous with the outside row of fins in the 11fpi. core

Usually, the more fpi. a core has , the better the heat dissipation rate is, until the closeness of the fins to the thickness of the core ratio is too high and starts restricting the volume of air passing across the fins. Air is like water & takes the least path of resistance, so the thicker the core/closer the fin pitch, the more the air tries to go around the radiator. Foam is often used by manufacturers to seal any gaps, to force the air through a radiator. As always, maximum cooling is a compromise!

Unfortunately, I have had to use intercooler cores in this pic, so the tubes are much bigger, but the fin pitch variance shows up the same.