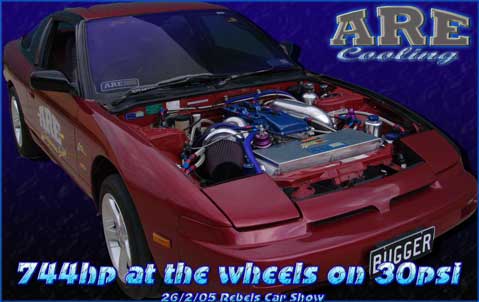 01/05/05 - QLD. Hot Rod Show - 788rwhp on 29psi.
This is our own Project car
| | | | |
| --- | --- | --- | --- |
| From this | To this | To this | Gives this |
| Yes, I really did buy it off Ebay, but only because it was in Brisbane & I could check it out before paying. | Dummy 3RZ during fit out. The engine- trans. is bolted in, now for all the auxiliaries. Bulk hours still ahead. | Getting ready for our third ever pull with dry ice. We have not filled the second compartment, leaving that for serious tuning later. Early tuning was done with town water in the intercooler- ice is $3/kg. | Fifth run on ice gave this!, the curve makes me smile much more than the top power reading. Any tuner knows what I'm getting at. Soft, safe tune but still gained 103hp with dry ice over cool town water. |
Objective
- To showcase our cutting edge cooling products & in particular our new range of extremely efficient Intercoolers, as they give results noticeably better than anything commercially produced up until now. Skepticism has been stifling their acceptance, but just because they are at the very front of engineering excellence, they still need to be part of a complete package setup to provide their full potential. Brash ? - yes, but we do have the results !
-- To get enthusiasts (mostly young) to think out of the square, for better results - better value. Japanese are more RB26, Americans more Honda B series & Australians more SR20 orientated (in general, also more diversified with engine choice - similar to the Puerto Ricans) - but remember there are other alternatives out there.
--- Back in the late '80's, I sat in the grandstand watching in awe as the Sammut Bros' Turbo 6 cyl. Torana & then 300ZX, & Jeff Watson's turbo 4 cyl. Sprite, ran down the strip in the 7 sec zone @ well over 180mph, & without an ecu (mechanical injection). Then many years later, a new generation of enthusiasts who obviously never knew of these guys ( or maybe some forgot ?), tried too force the Japanese performance market down my throat. Wow, these tuning shop/manufacturing companies, were magicians getting unbelievable results, & created a culture of customers that had to run their product, or worse still, just buy their stickers to put on their car & pretend. They were so far off these Australian guys pace from a decade before, it was sad. In 1997 when I was starting ARE, it was not just the Asian Students that had this "in brand" mentality, but a fair number of young Aussies had already been hyped up as well. I did so much R&D & knew how allot of those products in OUR market performed & obviously, how ours performed, so yes, I was pissed that we missed allot of sales because we didn't sell any of these brand products, & frustrated that customers really didn't know the facts to judge anyway. There must have been very few dyno's & even less air flow benches used in developing those products, note -- dyno sheets were used for promoting their products with a maximum power figure quoted. I have always said to anybody who would listen, that when the Americans get serious with Sport Compact drag racing, stand back because the Japanese are going to look very ordinary. In the last couple of years, this is exactly what's happened. Why, because the yanks been doing it for decades & it's very hard to beat a person with full basic knowledge & experience, it's just a more advanced technology they had to adjust to, & really, the yanks are just getting going !! Think I'm over the top?, well HKS went through a few cars & mega dollars over years to run into the eights @ 170mph, where as it took the yanks only a few years to run into the sixes @ over 200mph. I am even more impressed by the Puerto Ricans, they are old school adventurers, who really mix it up. Getting off my soap box, I wanted to use as many Australian products to compliment ARE's as possible, & if we don't make it here, then use American products. Please Note :- my gripe is with the Japanese after market hype, not there oe automotive industry who really over engineer there performance engines. I also admit I haven't owned an Australian made car for 10 years. One last thing, a portion of the brand Japanese parts are not even made in Japan, mostly pistons, rods, valve springs etc.
---- Personally, I'm not into 'crossbreeds', but I want the car to be noticed, looked at & remembered, as well as perform real good & not break, so I chose what I believe to be the best chassis platform (had to be rear wheel drive for repeatability & reliability) mated with the best engine & drive train to get the job done the cheapest & best way possible. Nissan 180 sx body, Toyota HiLux engine, Tremec gearbox, Chromemoly tailshaft & uni's, GTR rear end.
---- Lastly, too keep ARE staff dealing with the intricacies of cutting edge technology on a weekly basis so we stay focused on what is really needed to keep us at the front, & off course, to have some high powered enjoyment.


Performance Goals
- 500 kw's (658hp) at the wheels at the '05 Canberra Summer Nats Dyno Comp. This has to be on Optimax pump petrol & the average of three power runs. Very, very difficult to achieve & every thing will have to be spot on. Also, my aim is that the car has to be driven out of the room - not being a 3 run 'grenade'. The current record is 380 kw., but this is immaterial to our goal, I'm sure at least one car will run over 400 kws. in '05. To me, 500 kw is 'THE' barrier'. So much for this one, been & gone, we just flat ran out of time.
- over 600 kw's (790hp) at the wheels in QLD dyno comps., running race fuel, preferably unleaded.
- Over 160mph (258kph) quarter mile terminal speeds, with an oe floor pan & firewall, untubbed 4 cyl. sedan.
- ET - 9.499 secs. would have me over the moon. ARE does not have the budget to chase elapsed times (Traction) & will either be satisfied with whatever, I will only run drag radials, as Slicks place a heap more load on the whole car, but especially the rear end, or put our engine set up into a proper drag car. A rail ? - my power speed calculator says just under 7 sec. et. @ just over 200mph ( if all goes well) !!!!!!! Whoo hoo .
- Run the car at Lake Gardiner (S.A.) salt flats in march '06. It will run over 200 mph.! The world record is 235 mph., set by the JUNE skyline GTR at the Bonneville salt flats. This will depend on someone towing for me though. Been & gone, I'm turning into a "gunna". he car is being fitted with a cage.
- Must be driven to work once a week, with the good engine, & constantly street driven with our own development engine.
Lofty goals - yes, achievable - yes - (may take 12 mths or more), easy - no bloody way !!!

Results
February '05 - Initial startup & base tuning was straight forward. Run in with Valvolene run in oil. varying the revs & load. I asked Nick to lightly load the engine within minutes of firing it's first shot. After 20 mins we started to get adventurous, more revs more boost, more load. Looking good, all ecu changes making sense & giving expected results. Before we finish for the night, make sure the secondary injectors work - 8 lbs boost & they kicked in. Next afternoon I returned to APC., drained the oil, changed the filter, added Pennzoil race mineral 20-50, drained the Ultimate & added VP16 race fuel, the guys (Ashley & Aarron) adjusted the fuel pressure, checked everything, so lets make some hp. 8 hours later, they had worried faces & I was bloody sad & pissed. 15psi boost, 13° TOTAL timing & the plugs were telling us that cyls. 2 & 3 will start burning up if we keep going. Not even enough power too bother measuring, & it all pointed to my trick radical plennum. Next afternoon I pulled the plennum. We all checked it out. No real consensus but many doubts. Took it to Craig Hasted & he gave me a few pointers, but nothing concrete, except about the fuel mist above the trumpets on the V8 Super Car injection he specializes in. Went to Bryant Engineering & flow tested each runner, even though they are cast so must be very close - all good. So, I cut the external injectors out & welded a plate in, made a new fuel rail, welded some bosses in the runners like everyone else in the world does! Went back over to APC, refitted the plennum, pushed it onto the rollers & let the guys do their thing. Nick had to go way back with the tune as we tried many things trying to get my original plennum to work (like swapping injectors, fitting different injectors etc), & within an hour we were well over 500 hp. That bloody plennum was going to be a real weapon & set the world on fire, good one ! One of my worst ideas, although I still want to try it on a n.a. engine as it has to work, but the reversion pulses on this engine must be much stronger than I thought. Later that night, we had 670rwhp on iced water. Saturday morning & we ran dry ice for the first time. Fourth power run gave us 785hp & we had to get to the Rebels Dyno comp. We made 744hp with a blue haze off the rear tyres - wheel spin. This is going to be the biggest problem with this car - traction !
Details. - We are revving to 8200 rpm, running 29psi, making 785rwhp & the rear end has to be tied down that tight, it is definitely making near/over 1000rwhp. The engine is swallowing 1230 cfm of air & it's speed in the 80mm turbo outlet pipe is 156kph. This reduces to 27.8kph in the core & it takes a molecule of air 0.075 sec. to travel through the core. The intercooler is removing 141kw ( 8025 btu/min or 189hp) of heat from the charge air, starting a power run at - 50°c & still finishing below - 20°c. - now that's cool !!

| | | | | |
| --- | --- | --- | --- | --- |
| Getting it's first tune on dry ice, the morning of the dyno shootout. Cut it fine for time. | On the APC truck off to it's first event, The Rebels Car Club twin dyno shootout day. | | | |

march - April '05 - the car is Wizard Fabrications with Gavin fabricating a roll cage & parachute mount. The front bars will go down through the dash for extra room & we can luckily, now run just approved, bolt in side intrusion bars, I'm a big bloke & need the room! When it comes back to ARE, we have to remove the radiator to fit a fan & shroud & mount it all properly, connect & wire the controller for the DC ewp. We then have fit the 4" cat & rear muffler. Next are gauges - speedo, tacho, oil & water temps, oil pressure, turbosmart E boost for boost pressure, & the AEM wide band Uego gauge. Some 10" rims & 275/55 x 15 Mickey Thompson drag radials, & then I can actually go for a squirt. This will probably be end of April, as all this work has to be done after hours.

may '05 - Got the car car back from Wizard & mostly happy, but pissed at the condition of the wiring where they pulled the dash out & the rear down tubes are very basic. Hopefully the cage will never be needed anyway. Mad thrash to get the car ready for the Queensland Hot Rod Show. We built a new intercooler, dry sump tank, dry sump breather tank, crankcase breather tank, HTD dry sump pump belt drive, turned up bloody beautiful large diameter alternator & power steer pump pulleys, slotted the dash & fitted an alloy dash panel & fitted a set of VDO gauges (we still have a couple to fit), & got the handbrake working.
The Dyno Comp. at the Show wasn't promoted much & so entries were down. I could see that we would have to run twice a day for the three days to help them out , & so chased around Saturday afternoon for more dry ice. Once again we had trouble tying the car down to stop wheelspin. First two runs Saturday, we made 605 & 609 rwhp. before the Milanco guys adjusted the straps & we pulled 772 rwhp. Sunday morning we pulled 750 rwhp. but not before dramas. Justin got off the throttle real quick during the first pull & looked concerned. I had a look at the graph & our air/fuel ratio was leaning real quick. He asked if we could be out of fuel & because we have not fitted a fuel gauge yet, I wasn't sure. I had to add a 20L of C16 in front of 500+ people & started to pour it into the unconnected side, spilling fuel on the ground - not looking very professional ! Thankfully, the guys found the probe had blown off the exhaust pipe. The speed that Justin reacted to the mixture change, really impressed me & I will trust my car with him anytime. In the afternoon we made 788.2rwhp., which is our highest to date, but as you can see, still with wheelspin. For Monday, I thought if we gave it another 2psi. (31psi.) we'd shit the 800 rwhp barrier in. Yeh, right, it's only 12rwhp we need. We didn't have enough ice left to fully fill the intercooler, it started to rain & the rollers were wet, we rushed it abit, & came up well short at 758 rwhp. Next time. In each of the 5 sessions we made over 730 rwhp, but often the straps had to be adjusted to do it. I have since sourced some s/h 225 x 16" radials, so we'll see if these ease our traction problem.
| | | | | |
| --- | --- | --- | --- | --- |
| | | | | |
| Sunday mornings result. Once it starts turning the tyres, momentum is lost & so the reading is down. | Sunday afternoon & it was on a mission. Shame about the wheel-spin. Best we've ever packed the intercooler too. | | | |

Car
- Nissan S13 180 sx coupe - one of the most popular Grey Imports that open up a variety of differing class eligibilities.
- Only recently have a few Nissan RB25 6 cyl. 2.5L conversions been performed & even a couple of RB26 surfaced as the 'baddest of bad".
- A very versatile platform that is the same as the Silvia & almost the same as the R32 Skyline, Cefiro, Laurel.
- One of a couple of 4 cyl. rear wheel drive platforms produced in the '90's. Rear wheel drive is better than front drive for traction & consistency.
- Full standard body except for a carbon fibre bonnet to clear the taller tappet cover. A roll cage & parachute will have to be fitted.

| | | | |
| --- | --- | --- | --- |
| | | | |
| Still with the CA18. Trying front wheel fit. Going to run the Pirelli Corsa C tyres off my old twin turbo celica. | Wish we could find more time! It's a precious commodity at ARE. Can't wait until this wheel well is hidden in smoke. | This is how we bought it off Ebay. Body will be straightened & painted. Note rear toe in - it has to be adjusted. | Before we started. Factory Nissan CA18det 1.8L (109cu.in.) turbo setup. |
Engine - Toyota 3RZ - 4 cyl. 2.7 litre, double overhead cam, 4 valve / cyl. Cast iron block, alloy head, 16v.
- Available in local Hi Lux & Hi Ace commercials. We have bought an import engine out of a Surf front cut,( just to be sure we meet all possible rules), for our own fit up & then maybe a development programme. Our 'good' engine is also an import - but from the USA.
- The 'good' engine is actually a complete long ( sump to rocker cover) assy. from the premier 3RZ engineering shop in the USA - L C Engineering. When I worked out the projected labour & material costs involved in developing an engine package to this level, it made more sense to bring in a long engine from these guys, & get a head start into making all the auxiliaries at ARE. It was a hard decision, as this is the very first engine I have not done myself, & my engines performances have always given me pride & satisfaction.
| | | | | |
| --- | --- | --- | --- | --- |
| | | | | |
| I opened the crate & thought - yeh, okay, so it's a Hi Lux engine. | Then turned it over & I could see some of what I paid for. | Exhaust side for Toyota. Modified oil return to suit dry sump. Belt drive option too expensive & i believe above my needs. | These are the 4 oil outlet bosses. They have to be on this side as it is the direction the crank throws the oil | All the good bits are available, but because they're not high volume &/or the Chinese haven't copied them, you have to pay more ! |
Dry ice Intercooler - Cooled charge air makes horsepower. Cold charge air makes more horsepower a little earlier. Freezing cold charge air makes much more horsepower allot earlier. Of course, results depend on the application. More info here
| | | |
| --- | --- | --- |
| Revs per minute | Boost gain in PSI. | Horsepower gain @ wheels-over ICED water! |
| 4000 rpm | 1.3 psi. | 30 rwhp |
| 5000 rpm | 4.0 psi. | 60 rwhp |
| 6000 rpm | N/A. wastegate open @ 30 psi. | 100 rwhp |
| 7000 rpm | " " " " " " | 121 rwhp |
| 8000 rpm | " " " " " " | 9 0 rwhp |
| | | | | |
| --- | --- | --- | --- | --- |
| | | | | |
| If size matters, then this inter -cooler must be up there with them. | It needs allot to remove 130kw (175 hp) of heat from the intake charge. | Hard tank shape to get even distribution through the core. Only one baffle was used in this tank. | Minus 79°c means bare hands are for desperation filling only. | |
Lubrication - Because of the billet dry sump (which is also a main bearing cap support) needed to sustain these performance levels, I had to buy a pump. I had seen the quality of the parts made by BDG in Perth on Jay Uptons awesome top fuel bike & this swayed my decision to buy Australian, even though I knew little else of the company. It does the same job as our heart, so the decision was not made lightly. I am not confident with my own decision to use a serpentine drive belt, as I can only get a 4 rib, not the 5 rib I planned, requiring too much tension, or it slips, so I will be going to a tooth setup. Over 30 years ago I read where Grumpy Jenkins picked up 48hp. with a dry sump, over the scraper & baffled wet sump on his small block chev. & their use is so widespread in circuit & Championship drag racing, that I can't understand why they are not more common in our Australian sport compact & drift scene.
| | | | | |
| --- | --- | --- | --- | --- |
| | | | | |
| It's a very tight fit around the first sump outlet, meaning all the hoses have to be worked on in sequence. We used a BDG pump. | Possible overkill, but we made a baffled sump in the sump! Never a chance of air here. | The two halves before joining. we use the mesh angled to separate any air from the oil before the oil gets into the bottom half. | Macro of our welding of the mesh, Can't afford the smallest piece to every break off. | |

Gearbox - Tremec 5 speed from Mal Wood Automotive in Warwick. This is usually supplied as an upgrade for Falcon GT's & HSV Commodores. Most guy's think Supra gearbox, but these would be seriously on or over the limit with this sort of power.

| | | | |
| --- | --- | --- | --- |
| Tremec 5 speed. | | | |
| Unusual choice. Remember, one of my engines won an ANDRA Gold Xmas Tree & ran 150 mph in '78 so I learnt decades ago that the drive train has to be tough to survive. | This is the Tremec fitted with the oe crossmember. The best for Dyno comp. work? High stall converters give unrepresentative power curves. & autos absorb power. | Plenty of room in the tunnel. I wonder if there's enough for a C4/6 for some strip times later? | Not so much room now. A 4" dump pipe really does take up some room. It just fits. We had to trim the side of the bellhousing for clearance though. |
Clutch & Flywheel - Steel flywheel & dual plate clutch from Mal Wood Autos in Warwick. This is usually supplied with the above gearbox & handles a modified V8's torque, but I have a feeling our turbo 4 will test it out - launching on a sticky strip !

.
Mall Woods billet steel flywheel & dual plate clutch plate posts to locate the floating centre plate.
These are the two clutch plates with the floating plate. This allows much smaller friction pads & so less pressure with still enough surface area.
From the top. - Pressure plate cover, diaphragm spring & pressure plate.
- Clutch plate, floating plate, clutch plate.
- Flywheel, ring gear.

It wont make it clamp any better & I hope you never see it !, but I like the colour !
Rear End - Complete Skyline R32 GTR assy., cradle & all. These are renowned as bullet proof & as it bolted straight in. A cheap, quick, & super efficient rear end conversion that is not yet common knowledge. Also gives 5 stud wheels. We added the latest drift-drag version KAAS clutch pack locking diff for extra grip.

| | | | |
| --- | --- | --- | --- |
| | | | |
| This has to be the best kept secret. An R32 GTR diff in its cradle which just rolls forward | after stripping, checking , painting & reassembly & then the whole GTR cradle & | assembly bolts straight in, without the rear steer of- course. We will be selling this rear | steer eliminator kit. Waiting for the tailshaft. These rear ends are strong ! enough, I hope. |
Brakes - 5 stud GTR all round. Upgraded with DBR 5000 drilled/slotted rotors. Even though there is a noticeable weight penalty, consistent safe braking are paramount here. I have to say that imho you can go too big in brakes. I could've fitted 30 or 60mm bigger brakes again, but these are 10mm thicker & 30mm bigger dia. than S13 turbo brakes & that is going to cost some hp & time, so only as big as needed is my attitude.

These are the very latest series DBA rotors. Same size as oe Skyline GTR, but much bigger than the S13 turbo brakes they replace as can be seen above.
This is the hub needed for the front conversion on S13 struts
Like intercoolers, imho, you can go too big with brakes ! I definitely would not have gone this big if the car was for drag work only, probably used 200SX brakes.
Front rotors for comparison. I notice drilled rotors seem to be 'fading' out of fashion !

S13 rotor - 250mm x 18mm @4.1kg
GTR rotor - 296mm x 32mm @ 7.5kg
Rear rotors compared.

S13 Rotor - 259mm x 9mm @ 3.2 kg
GTR rotor - 297mm x 18mm @ 6.2 kg
Support Companies - Australian
- APC - Nick from Advanced Performance Centre did all the electrical wiring, dyno tuning, injectors & related R&D. He has also been helping with invaluable (I can't emphasis this enough - I only took notice of the APC guys for this field) setup knowledge & suggestions.
- GCG - Brett supplied (not gave) one of his XTR turboes with his sizing expertise & the SFS hoses.
- Haltec - An E11v2 ecu for engine brain power. We need every bit of tuning power possible, in both range & micro adjustability.
- Turbosmart - For their blow off valve & very trick E boost controller.
- Davies Craig - The electric water pumps needed for engine cooling, intercooling & ice box fluid transfer. We will also be using their electric fans & switch.
- BDG - The 4 stage dry sump pump. I knew little about this company except they supply componentry for Jay Upton's Top Fuel drag bike
- Custom Carbon - Carbon fibre bonnet. Mainly fitted because it does not have the reinforcing ribs that were hitting our tappet cover, & saves a few kilo's too.
- Over seas
- LC Engineering - The Toyota 18& 22R & 3RZ engine building gurus. Machined the long engine, sump to tappet cover for my broad requirements.

- Individuals
- Mick Silk (0419 719 308)- Gave his time to help with engine-gearbox mounts & fitting the rear end. Also trailers the car when needed.
- Craig Keylar (0416 339 396) - Gave his time on spanners with assembly on the car.
- Darren Watter - Gave his time to do machining for us & help on the car.
- Danny Irvine - His computer programming & general knowledge are relied upon for ideas & second opinions.
- Ashley Mason & Aaron Gregory - Employees of APC, but gave their own time to help in the dyno room.
Gallery of our cars progress

It is a physically large engine for a four cyl., but then it is 2.7L (163 cu.in.). A Skyline GTR 6cyl. is 2.6L (157 cu.in.)

The mounts Mick Silk made for us. Strong as.

As 21-09-04 with water pump channel blocked off & power steer pump in position

The power steer pump is now sitting way down low for both c of g. & also asthetics.
This hole has to be plugged or we will have a big water leak!

Hole is cast close enough to thread with 1/2" gas tap. Use grease to trap swarf & stop from going into block.

Hole sealed & just needs a sand to tidy up & finish off.


Business end of an oe. injector. Dual centre spray holes because it is positioned in the head & sprays at each valve pocket.


Now it's starting to look the business. Stripped down to essentials, & sitting up proud.

Note how the dip stick is way shorter & out of the way. It will still give exact same oil level in sump.

Second part of shortening the dipstick & still get the accurate reading that is vital. First step is to measure how much too tall & cut the tube. Then mark stick as shown, allow for cut.

The hot side - on 20/10/04

This is our mild street engine, being built for low & mid range torque.

This is the oe. manifold cut. Not the best, but will give comparable results for HiLux upgrade development.
Test fit up.
trying to get the big dry ice intercooler outlet tank joined to the 92mm Milanco made throttle body - only just.
Hopeless !!
I thought this plennum was going to be a breakthrough. All it did was waste hours of Nicks time trying to tune it. 15lb, 13 total timing, 2 lean plugs & under 300hp! I learnt!
Worlds apart
All I did was cut the secondary bosses out of the plennum, plate the hole & position them in the runners. With very little tuning we had 500 hp. Curiously, there were no stains in the plennum from fuel 'reversion'.

This is how it looks after plating the bosses. My concerns with the plennum expanding at 30 psi. were right, so I have to try & source thicker material. The shape works a treat.
Traction?
Trying the new 275x15 Mickey Thompson drag radials on for lack of guard clearance. These are as far as I'm going with tyres.

Guard primed & undercoated. Mickey Thompson just fits under.
From the front
Looking from the rear. Big difference in rubber size.
Guard painted. The Mickey Thompson looks magic under the stretched guard.
From front
It's been a big stretch, this wheel/tyre combo filled out the guard before we started.
From front
The Pictures below are during our testing for combination Dry ice - water intercooling

This is the 50-50 mix flow rate at room temperature. 62 l/m @ 12.2v, compared to usual 80 l/m for straight water.

This is the flow rate at - 37°c. It dropped considerably from room temperature flow.

This is cold. We actually saw -47.8°c. a couple times, just after starting the pump- heat soak ?.

Note how the Tectaloy anti freeze - anti boil coolant is still liquid on the 'iced' pump fitting.

The two probes were 30mm up the hoses, so the alloy pipes would not influence the measurements.

At the end of testing we sat an alloy container of 50-50 mix in the dry ice, - 55.4 was the coldest measured in the "liquid".

This & the pic on right were taken within secs of each other & the temperature was stable. I've noticed the use of infrared temp. guns getting very common, so be very interpretive of there results,

as this shows a difference of 35.5°c. Totally misleading, - but in allot of circumstances they are very accurate.
As mid '04, this is the best engineered 3rz drag car
This car is being built by NORAD for the '04-'05 season & has not run yet. We have not ordered the belt drive setup on this engine, as I believe it is not cost effective for what we want to achieve. The 30 deg head is a prototype & not yet in production. Their goal is 7 secs., 200mph., 1200+ hp. Only in America. Way out of ARE's pocket depth.

| | | | |
| --- | --- | --- | --- |
| | | | |
| Getting close to shake down. Has been run, but has a few development issues. | They're hoping for big hp here. | It has a prototype 30° welded head. | |