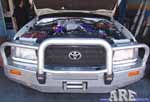 Front & back views of the same oil cooler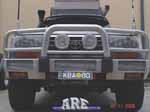 This is a trick setup with a very high BTU dissipation rate

Did you notice the oil cooler
Very neat, cool & very strong
The filter block is the hard & expensive part at this stage.
2 x 37mm thick auto trans oil coolers on the outsides & a larger 37mm thick engine oil cooler in the centre.
Two trans coolers on top of the engine oil cooler The engine generates allot of Torque & Bob tow allot of weight = allot of heat !