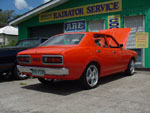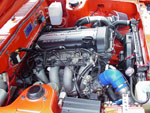 One thing I really like with this business is the lateral thinking of allot of guys in Australia. The diversity of modified cars really is wide compared to the US. scene. What better example than this car, for a fraction of the price of a 185 Commodore HSV club sport, Darren has better straight line performance & near good as handling in his more unusual choice. He doesn't have the creature comforts or the inbuilt safety features, but I bet he has a more satisfying drive.
Darren Watter bought a Hot Chilli type 1 off us with mandrel bent inlet & outlet pipes welded into the tank at the proper angles. Standard internals in the SR20, Haltec computer & 176 hp at the rear wheels make for abit of burnt rubber the through the soon to be changed, open diff. We rate the intercooler @ 130 fw. kw. & Darren was only going to up the boost a touch. Yeh !
2002/03 Darren stepped up the boost to the limit of the turbo 13psi. & really enjoyed the power boost. He now had 217 hp @ wheels - way over our 140hp rating - actually 55% over !! He would probably have 237hp if the intercooler was larger. Now in '03 he's fitted a Garrett GT30 turbo & I'm waiting for him to get back with some figures.