Tony & Sue Wedlock
- 4 times Aust. Pro Stock runner up -
- Winner, '03 Winternationals -
- 2003 & 2004 Aust. Pro Stock Champion(-thank god) -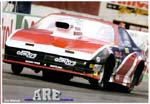 01 / 03

I have known Tony's crew chief, 'Gonzo' for more years than both of us want to remember, so when they landed there new 'bullit' from the States with the instructions from the engine builder that it had too run what I consider real cold for the whole run, he asked us too build a radiator. This is what we built. 55mm thick, dual pass. It works a treat with the water temp only varying a few degrees over the whole run.
© Aluminium Radiators and Engineering Pty Ltd (ARE Cooling)
While every effort is made to ensure details and information is correct at time of publishing Sunday, 05 August 2012
please contact ARE by phone, fax or email to confirm prices before order.