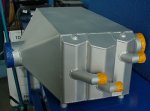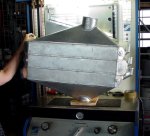 This is an11kb PDF file. Worth a look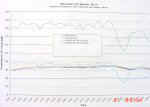 There is a reason for the three pairs of tanks & also for the different profiles of the tanks. Yes !

This is one of a few intercoolers that totally overtaxed Bryant Engineerings flow bench. In fact it is only limited by the 102mm inlet/outlet pipes. This is part of the reason I don't list cfm figures, some that I read are a complete fabrication & would make ours look bad, they are so easy to manipulate & are unsubstantiated. Yeh, it pisses me off, buts that's business.

The explanations & text for this file are @ Research & Development where you can see that under certain conditions we got better than 100% efficiency compared too both/either the inlet water temp. & the ambient temp. It shows that if I showed you a particular second snapshot we have these figures, but not under normal operation, although we are still around 98% to the water temp. & 73% to ambient - let down by the radiator.